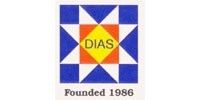 Dias
Guild members History:
History: The Dias Quilters` Guild was founded in 1986 and has hosted National Quilt Festivals in 1992 and 1998. It is one of the 5 hosting Guilds for Festivals. Members are from the Port Elizabeth and surrounding area. Members receive monthly newsletters 2 weeks prior to Guild meetings. Current subscriptions are R150 per annum. Door fees for members are R10 per meeting. Regular demonstrations are held at meetings with guest speakers, vendors and comprehensive library for use by members. Charity quilts are made annually and The Spring Show, usually in October, is used as a public awareness program to showcase the work produced by the members during the year.
Chairlady: Erina von Gordon: daggabull@igen.co.za or 072 422 3507
Newsletter editor: Angie Franke: artvark@cybersmart.co.za or 082 228 2220
Area : Port Elizabeth / Humansdorp / Jeffreys Bay / Uitenhage / St.Francis Bay and Cape St Francis
Meetings : Monthly - last Saturday of the month
SAQG Regional Representative : Kristien Schutte: kschutte@outlook.com or 082 876 8814
THE NEXT GUILD MEETING WILL BE HELD ON SATURDAY 25 MARCH 2017, 13h30 for 14h00 AT THE VP GREY JUNIOR SCHOOL HALL.
Please bring any stray blocks or charity quilts that might be floating around Erina wants to consolidate our donations in November!
Also please bring: scissors and 1 x fat eighth to donate (11 x 18inches OR 28 x 46cms)
CONGRATULATIONS TO ALL OUR SPRING SHOW WIINNERS:
Open Category
1st Mystery Medallion Sue Bax
2nd Hundreds & Thousands of tiny Green Blocks Sue Bax
3rd Crop Circles Jenny Muller
Highly Commended Mandala Cushion Lynne Kay
Open made by a group
1st Two Fun Fish Ann Bell
2nd Quilt Police Liz McAinsh
Masters
1st Red & White "Imbenge" Bowl Colleen Butler
Mini Medallion
1st Dresden Inspiration Trudie Botha
Pieced Bed Quilts
1st Persian Carpet Erica Keyser
2nd Scrapsody Carole Green
Highly Commended What a lot I've got Elize Goosen
Appliqued Bed Quilts
1st Half a Decade E. Erasmus
Pictorial Wall Quilts
1st Bejewelled-Lady of the Nile Joy Clark
Organic Wall Quilts
1st Spring Flowers Carol Parker
Geometric Wall Quilts
1st Courthouse Steps Joy Clark
Best Machine Work
Friends and Fruit Joy Clark
Best Hand Work
Shining Star Yolande Bowman
Best on Show
Friends and Fruit Joy Clark
Judges Choice
Judge 1. What a lot I've Got Elize Goosen
Judge 2. Hundreds & Thousands of Tiny Green Blocks Sue Bax
Judge 3. Bejewelled – Lady of the Nile Joy Clark