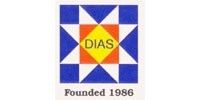 Dias
Guild members History:
History: The Dias Quilters` Guild was founded in 1986 and has hosted National Quilt Festivals in 1992 and 1998. It is one of the 5 hosting Guilds for Festivals. Members are from the Port Elizabeth and surrounding area. Members receive monthly newsletters 2 weeks prior to Guild meetings. Current subscriptions are R150 per annum. Door fees for members are R10 per meeting. Regular demonstrations are held at meetings with guest speakers, vendors and comprehensive library for use by members. Charity quilts are made annually and The Spring Show, usually in October, is used as a public awareness program to showcase the work produced by the members during the year.
Chairlady: Erina von Gordon: daggabull@igen.co.za or 072 422 3507
Newsletter editor: Odette Schlumpf: odetteschlumpf@gmail.com
Area: Port Elizabeth / Humansdorp / Jeffreys Bay / Uitenhage / St.Francis Bay and Cape St Francis
Meetings: Monthly - last Saturday of the month
SAQG Regional Representative: Kristien Schutte: kschutte@outlook.com or 082 876 8814
THE NEXT GUILD MEETING WILL BE HELD ON SATURDAY 29 JULY 2017, 13H30 AT THE VP GREY JUNIOR SCHOOL HALL.
Important dates:
13 June Kouga Quarterly Meeting
16 June Sewing at Seaview
2 July – 8 July Siyadala: South African Quilt Festival
5 July SAQG Biennial Meeting; time 17:15. Please make every effort to attend!
29 July Dias Guild Monthly Meeting
5 August For New Members
Kouga invites Dias to their Mystery Quilt Day:
? ? ? ? ? ? ? ? ? ? ? ? ? ? ? ? ? ? ? ?
Mystery Quilt Day:
Members of the Dias Guild are invited to join us with their sleuthing skills:
When: Wednesday, 9 August 2017
We will follow the clues to solve an incident of scrappy proportions…!
Cost: R50 p.p. (lunch included)
List will be available at the June Kouga meeting