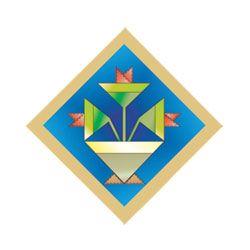 Outeniqua
The Outeniqua Guild was formed in 1986 as the Loerie Guild in Knysna. The Guild was later disbanded and became the George Quilters` Guild. On 16 June 1993 the Guild was re-named and became the Outeniqua Quilters` Guild. Members live in Plettenberg Bay, Knysna, Sedgefield, Wilderness, George, Mossel Bay, Hartenbos, Great Brak River and even in Oudtshoorn.
The very first National Quilt Festival in South Africa was held in Knysna in 1987, organized by the Loerie Quilters.
Meetings are held monthly, a formal meeting on a Wednesday alternating with a Friendship meeting on a Saturday the next month. Easy workshops or demonstrations are used at the meetings to encourage new members to join the Guild. The Guild offers an annual Challenge to the members, contributes to charities and quilts are handed over regularly to Aids babies, frail care patients and mentally retarded children.
Subscription is R120.00 per annum and the members have free use of the library with books and magazines.
Area: Mossel Bay/George/Wilderness/Sedgefield/Knysna/Plettenberg Bay
Chairlady: Doreen Crause doreenquilt@mweb.co.za
Secretary Elize de Smidt 072 248 6492
Meetings: Monthly
SAQG Regional Representative: Beatrice Whitehead beatricewhitehead5@gmail.com
Quilters' Calendar
Riversdal / Stilbaai ladies meet every 1st Thursday of the month at Waenhuis te Jagersbosch at 9am. Contact persons: Rensia Thopson 082 560 7153 and Letitia Grobler 083 236 7318
Courses on offer:
All get togethers at Emmaus. Contact Annette Marx on 083 461 9991
Quiltalk holds ongoing classes on Monday mornings for beginners, intermediate or advanced –
whatever you need.