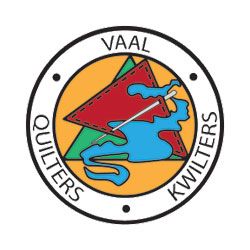 Vaal Triangle
The Vaal Triangle Guild was founded in 1995 under the leadership of Suzette Ehlers, one of the first quilt Teachers and Accredited Quilt Judges in South Africa. Many of our members were also founder members of the GRG for Quilters, and still belong to GRG as well.
Meetings are held quarterly for the 50-odd members and the current membership fees are R90 per annum, which includes the quarterly newsletters. Visitors are welcome and pay entrance fee of R35.
Since 1986 the Guild has had an annual quilt exhibition in the Sasolburg Public Library but due to changes in library patronage, the Guild now hosts an exhibition in the River Square Mall, Three Rivers, Vereeniging.
The Project planned for 2017 will be to finish a raffle quilt, the income of which will supplement the coffers of the National Quilt Festival in 2019 which will be hosted by neighbouring Guild, GRG for Quilters.
Our Guild Library is brought to every meeting and donation of quilt books are welcomed
The Guild boasts 3 accredited National Quilt Judges: Trienie Kruger, Shan Day and Elsa Brits. Quilt Teacher Accreditation Tutors Trienie Krugel and Elsa Brits also hail from this small Guild.
The committee consists of:
Chairperson: Elsa Brits elsa.brits@gmail.com 083 287 7446
Secretary: Retha Froneman
SAQG Representative: Louise Swanepoel: 27829224192@vodamail.co.za
Projects: Trienie Krugel
Show and Tell & Library: Elsie Burger
Exhibitions: Gwen Bartie
Shops: Dot Brown
Venues: Maureen Conradie
Newsletter: Belinda Preece
2017 promises to be a very exciting year with the committee planning exciting new meetings.
18 March 2017, on National Quilt Day, Guild members will meet in Vereeniging at the QuiltSew shop where Joan Muller will be presenting a hands-on demonstration combining quilting with crochet.
24 June 2017 will see Maureen Conradie exploring different techniques with which to make perfect curves.
16 September 2017 will be devoted to a class in Sri Lanka applique/embroidery as presented by Elsa Brits
4 November 2017 will be our annual Christmas meeting during which the Guild's own Louise Swanepoel will be the guest teacher.
The Guild invites all interested parties to contact us for any information.