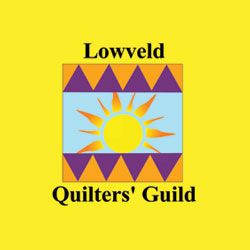 Lowveld
Lowveld Quilters' Guild 1991 to 2012
Area: MPUMALANGA/
1991 - 2015
White River/Sabie/Nelspruit/Barberton/Malelane/Hazyview/Komatipoort

Mary Espinell was responsible for getting several ladies interested in patchwork in 1983 when she introduced patchwork stamps. In 1991, Janet Hossack from Canada came to SA and ladies from Nelspruit, Barberton, White River and Malelane attended a workshop held by her in White River. As a result of the enthusiasm of this workshop, Mary Espinell suggested that a Guild should be started and the Flamboyant Guild was founded. As quilters came from all over Mpumalanga, it was felt that Lowveld Quilters` Guild was a more representative name.
Nowadays meetings are held every second Friday of the month. We are lucky to have Malinda Neto as a member, as she has opened her lapa and studio to the Guild for this purpose. It is situated just outside Nelspruit on the Barberton/Hilltop road. Meetings are currently held at the Reformed church, Kiaat Avenue 45, White River
Guild fees are R80 per annum plus a door fee of R15 payable each meeting.
A comprehensive library is available to the members for inspiration, as the members have to depend on visiting teachers for workshops.
Show and Tell is the highlight of the meetings, showcasing a wonderful display of work.
The members are actively involved in Outreach and other charity work. The Guild will support CANSA, and in particular breast cancer this year. A "trash and treasure" table is implemented to help with fundraising.
CHAIRLADY: Sue Hicks 083 700-8825 suehicks@icon.co.za
VICE CHAIRLADY: Nanette Cox 082 537-7286 nanette.cox@vodamail.co.za
SECRETARY: Audrey Browning 082 435-8352 audreybrowning@hotmail.co.za
TREASURER: Lole Taylor 082 892-4105 lole@idhweb.com
P.R.O.: Janet Birchenough 076 996 31698 jebpd@absamail.co.za
PHOTOS & ALBUM: Riana le Roux 082 254-7100 leroux555@gmail.com
LIBRARY: Marietjie Tom 072 531-4944
Groups:
1. BARBERTON: Barberton Girls - Sue Hicks 083 700-8825 suehicks@icon.co.za
2. BARBERTON: Kwetter Kwilters Matthea Dirks 083 657-8810 justusdirks@telkomsa.net
3. LYDENBURG Vlytige Kwilters - Christine Filmalter 079 8124723 christinefilmalter@yahoo.com
4. NELSPRUIT: Vetkwarte - Malinda Neto 083 783-2627 malindaneto@mweb.co.za
5. NELSPRUIT: Golden Oldies - Baby Francis 083 414-4115 babyfrancis@mweb.co.za
6. WHITE RIVER: Tuesday Girls - Dee Chandler 072 169-9124 chandlers@worldonline.co.za
7. WHITE RIVER: Material Girls Zena Turvey 078 095-3050 zenat@mweb.co.za