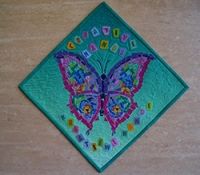 Creative Hands Quilters' Guild
A textile art group exploring innovative techniques.
Areas - Centurion & Pretoria East
Meetings - 2nd and 4th Wednesday of every month
Contact Person:
Marianne Niemand
082 680 9548
marianne@niemandt.com
Media contact:
Alet Davy
079 401 8978
alet.davy@hotmail.com


Gallery
Click on photos to view enlargements.
More Information
We have experimented with different embellishment techniques. We have worked with folding techniques, Use of Avolon, tyvek, metal, Angelina fibres, distress dying, dying fabrics, felting and many more.
Every year we do a specific art workshop. In the past our focus was on exploring different ideas for design inspiration.
We have two challenges every year. One to be handed in during March, and the other at the end of the year. We get together every six months to do our planning.
See the latest works made by members 'Fractured'
View some quilts in the Gallery
We are a very close and committed group and for maximum participation we restrict our group to between 12 and 15 members.